The 25th reunion - 1979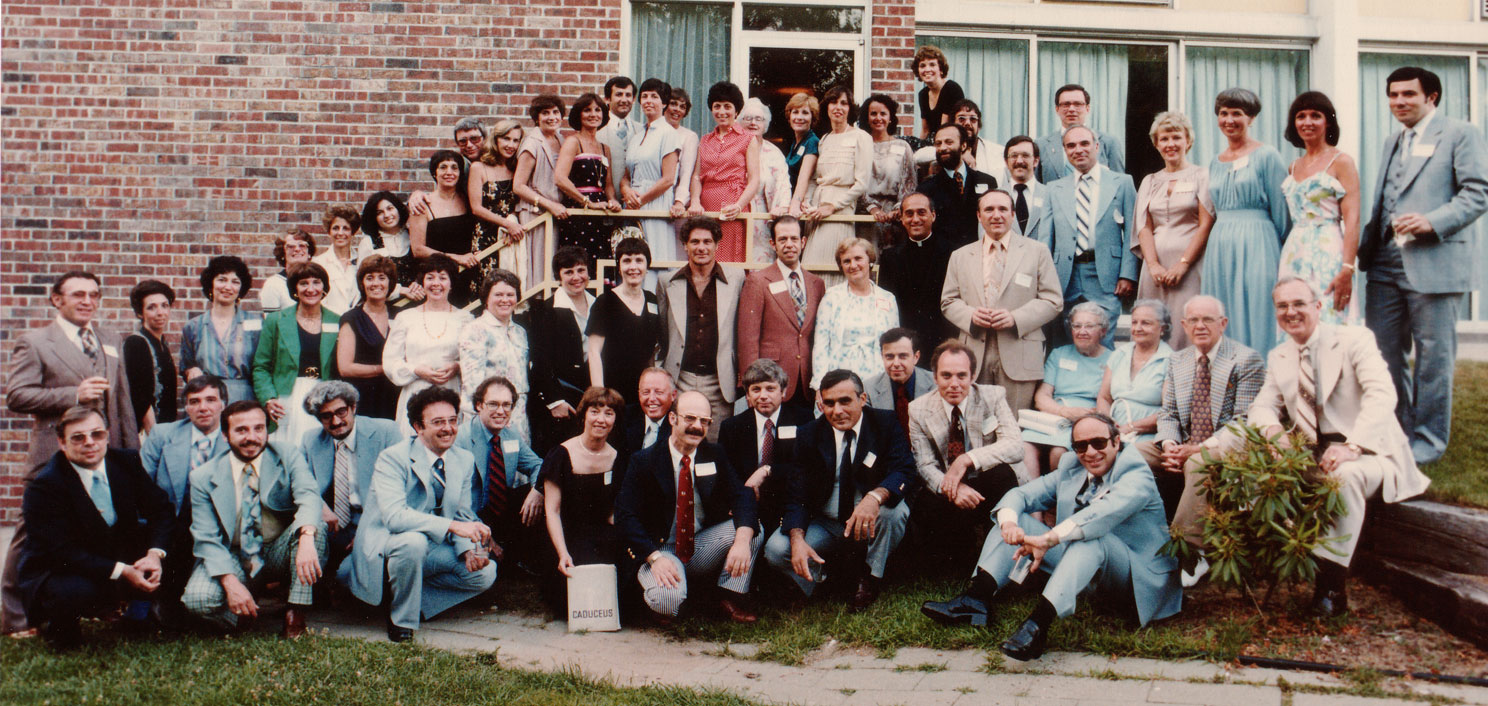 OLYMPIAN DECREE OF '54


THEY CHOSE THE MONTH OF JANUS,
WHO FACES BOTH THE PAST AND FUTURE,
TO CONVENE THE CONCLAVE OF THE THIRTY-SEVEN
CHOSEN TO THE PURPLE.
ALL WERE INVESTED WITH THE CROWN OF SOLOMON
AND GIVEN THE STAFF OF CADUCEUS AS A SCEPTER.
THEY WENT FORTH TO RULE THEIR INDIVIDUAL KINGDOMS
WITH INSTRUCTIONS TO RETURN IN TWENTY-FIVE YEARS.

WHEN THE SILVER TRUMPET SOUNDED THE CALL,
IT DID NOT REACH THE EARS OF THOSE IN UNKNOWN LANDS;
OTHERS WERE DEAF TO THE CRY,
SOME WERE UNABLE TO LOOSE TIES THAT BOUND.
DRAWN BY THE RAYS OF THE LAMP OF KNOWLEDGE
THE FAITHFUL RETURNED.

AMBROSIA AND NECTAR AT KING RICHARD'S LONG TABLE
BEGAN THE FESTIVE WEEKEND FOR THE KNIGHT ERRANTS.
REVELRY AND LAUGHTER SPANNED THE SCORE AND FIVE YEARS
THAT EVENING lN CAMELOT.
ON SATURN'S NIGHT, ALL ASSEMBLED
AT THE INN OF HOLIDAYS
TO ENJOY THE FRUIT OF THE GRAPE
FOR A TURN OF THE HOURGLASS.
THIS INSTANT WAS FRAMED IN A PICTURE PAINTED
WITH THE GENTLE SHADES OF TWILIGHT.
THE PROPHESIES OF THE CLASSIC ORACLE
WERE FOR HEALERS OF MINDS AND BODIES,
INSURERS OF THE PUBLIC, LEADERS FOR THE COMON WELFARE,
MENTORS IN UNIVERSITIES, MATHEMATICIANS, INVENTORS.
HIPPOCRATES, ARCHIMEDES, ARISTOTLE, PYTHAGORAS
WERE PRESENT IN VARIOUS GUISES AT THIS MEAL RULED BY LARES AND PENATES.
EACH LIKE A MINSTREL RELATED THE PAST;
ONE OF THE THREE WISE MEN FROM THE WEST
INTRIGUED THE GATHERING WITH TALES
OF LIFE SPAWNED IN SODOM AND GOMORRAH.
AFTER THE REPAST, THE ELITE RETIRED TO THE ROOMS
OF THE HEALER OF THE GREAT BLUE-EYED ONE
FOR CAMARADERIE WITH MEAD AND ALE 'TIL TWO.

IN THE MORN OF THE DAY OF THE SUN,
THEY GATHERED BY A WHITE CASTLE NEAR THE SHORE
RELAXING ON THE WEALTH OF GREEN ACRES
SURROUNDING A POOL OF SOOTHING WATERS.
THE FEAST WAS SPREAD ON TABLES IN OLYMPIC SPLENDOR
FOR EACH TO PARTAKE AS HE CHOSE;
FLASKS OF IMBIBING FLUIDS WERE CATERED BY ATTENDANTS.
AN UNDERCURRENT OF URGENCY FLOWED THROUGH THE GAIETY
FOR THE TIME OF THE EBB WAS NEAR.
CHAIRS RINGED A ROUND TABLE, SO ALL HAD EQUAL SAY;
GOOD WILL AND PLEDGES FOR ANON BRIGHTENED THIS JUNE.
ONE BY ONE, THEY DEPARTED MAKING THE HALO
OF THE GROUP DIMMER WITH THEIR ABSENCE.
THE TABLE BECAME EMPTY.
THEY WOULD MEET AGAIN WHEN SILVER TURNS TO GOLD;
IT WAS A CLASSICAL REUNION.

Gary A. Martin